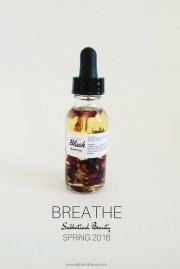 BREATHE is filled with Eastern-beauty inspired natural ingredients and packed to the brim with active ingredients such as sake extract, bee propolis, royal jelly, camellia oil, lotus extract, camel milk, and brewer's yeast.
Philadelphia, PA, March 22, 2016 (Newswire.com) - Sabbatical Beauty, an independent beauty online startup focusing on ingredients influenced by Korean beauty trends, launches its ten piece Spring collection, "BREATHE" today,  March 22, 2015. With its infusion of natural ingredients, Sabbatical Beauty capitalizes on the current trend towards Korean beauty in mainstream beauty outlets such as Sephora and Into the Gloss, but with emphasis on small-batch and ethically-created products that appeal to mindful consumers.  
BREATHE takes inspiration from the freshness and new life of the changing season to refresh and rejuvenate tired skin. Products include BLUSH beauty oil, with sake extract (brightening, moisturizing), blueberry seed oil (potent antioxidant) and real rosebuds, and MOAR HONEY II Serum, infused with 48% propolis and royal jelly extract to brighten dull skin. Propolis is known as "bee glue," and is highly nutritious, while royal jelly is the exclusive food the queen bee is fed in order to turn into a queen bee. The line also includes two Camel Milk Products--a cream made with majority organic Camel's Milk, known for being naturally rich in Alpha Hydroxy Acids which exfoliate dead skin, and high in vitamin D and C, and a mask that combines Camel's Milk with Brewer's Yeast--chock full of nutritious B-vitamins essential for the good health of skin. Another signature product is the EARTH dry mask, which combines Asian powerhouse ingredients like Turmeric (a traditional beauty ingredient used in South Asia), Goji Berries (a nutritional powerhouse) and Rice Bran (brightening, skin smoothening) with Western superfoods like Kale and Spinach.
BREATHE takes inspiration from the freshness and new life of the changing season to refresh and rejuvenate tired skin.
Sabbatical Beauty is excited to introduce this new line to beauty fans who are interested in using high concentrations of active natural ingredients to refresh their complexions for the changing season.
About Sabbatical Beauty
Sabbatical Beauty is an independent beauty startup founded by Adeline Koh, Ph.D., associate professor of literature at Stockton University. Koh created Sabbatical Beauty while on sabbatical because she was frustrated with the beauty products on the market. Many generic products loudly proclaim their "active" ingredients on their packaging, but these actives only make up a tiny percentage of ingredients. Inspired by the DIY beauty scene, she decided to start making her own skincare, and shared her results with friends. Sabbatical Beauty's goal is to share with its users the experience of being on sabbatical: happy, relaxed and refreshed. At the core of the small company's philosophy is to create ethically handcrafted skincare that supports the well-being and joie de vivre of its users.
Sabbatical Beauty was featured in January 2015 in Slate in a highly shared article that remained on the newspaper's top ten article lists for a week.
 
Related Links: http://www.slate.com/articles/double_x/doublex/2016/01/the_10_step_korean_skin_care_routine_is_a_radical_act_of_feminist_self_care.2.html
Share: